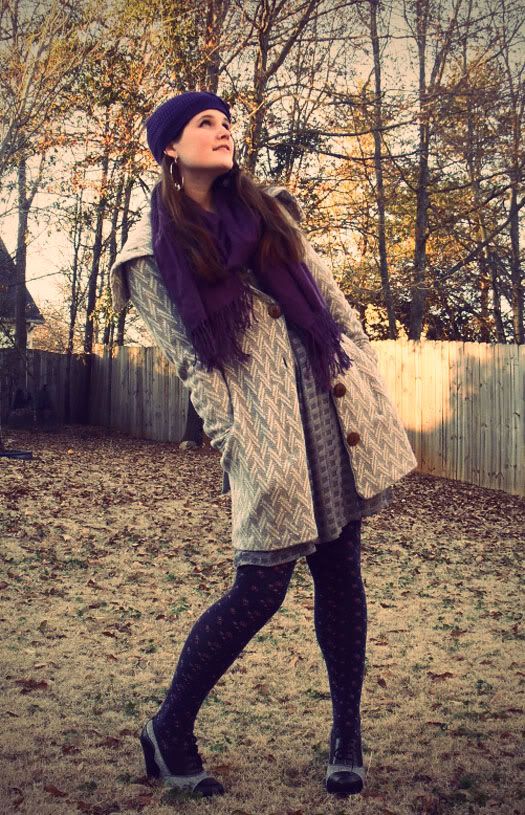 Hat: Ava Rose, Scarf: Forever 21, Sweater Coat: Anthropologie, Dress: Anthropologie, Tights: Anthropologie, Shoes: Kohl's
First day back to school outfit! Yayyyyy!......sort of.
My scheldule is really easy actually, so its not too bad to be back. Plus its my LAST SEMESTER of highschool, cheerio! My classes are Chorus, Drama, Film Lit and Spanish. Breeeeeeeeeze.
I am in quite a dillema nowadays though, because I'm in my highschool pageant in just a few weeks...and I was planning on wearing my prom dress from last year. But I tried it on this morning and it doesn't fit over my BUTT.
The funny thing about this whole situation is, I've wished for a larger butt since I was 12. Not a huge one, just a niced sized one...basically just enough to get people to stop making fun of me. Because almost everyone made fun of me for having a flat one. My friends even went to so far to call it concave. I felt self concious in all my jeans and shorts and bathing suits...
And now that I'm actually filling out, and looking more like a lady instead of a girl, I can't fit into my pageant dress. It literally fits EVERYWHERE else, but my hip/butt area. And thats what I get for not just appreciating my body the way it is. So now I'm stuck chugging water and eating small healthy meals for the next three weeks in hopes it will fit me in time...
I actually wore this on Christmas day too. My mom got me this whole outfit for the holidays, and in fact styled the coat, dress and shoes together- (the tights were my idea though!) I love how all the patterns compliment each other, and the dress has great movement and is very comfortable. You'll probably be seeing this coat alot, since I'm deeply in love with it~ To all of you who are in school, good luck with your classes!
Oh, and be careful what you wish for! ;)