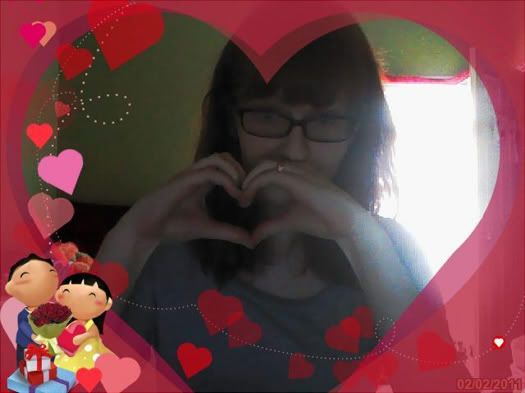 So I know Sarah Beth has been a bit absent lately, and you may be wondering where she is. I spent spoke to her this weekend and she's been quite busy lately with school and other activities, but she'll make a blog post when she gets a chance. :) I was going to wait to post this until after she was able to, but I decided I shouldn't wait.
Some of you expressed interest in the idea of me posting playlists, so here is a Valentine's Day playlist for you all! ♥
Now, commercially Valentine's Day is marketed toward couples, and couples are generally the ones who celebrate the holiday. But not everybody has a significant other to celebrate with, and that's why friends often exchange candies and cards, etc, as a sort of representation of the love that is present in friendship - rather than the typical romantic sort of love. So what I intended to do was create a playlist that was more centered around a general idea of love, and not romantic love, as I feel that it's something that's not done as often and also something that everyone can relate to. However, this turned out to be a bit harder to do than I'd thought...I just couldn't think of enough songs! So, I tried to cover everything and have a little something for everybody to listen to in preparation for Valentine's Day, and created a playlist of love songs that I consider to be feel-good songs.

Here is a track listing (may play shuffled):

1. Love Today - Mika
(one of the most upbeat "general love" songs I could think of)
2. Everybody - Ingrid Michaelson
(exactly the type of song I was originally looking for)
3. Maybe I'm Amazed - Paul McCartney
(maybe not a feel-good...but it's a classic.)
4. I'll Be There For You - The Rembrandts
(everyody knows this song, right? Friends? I think it's self-explanatory...)
5. Accidentally in Love - Counting Crows
(so I guess most people know this from Shrek or something. either way, it's a great, upbeat song!)
6. God Only Knows - The Beach Boys
(they definitely have more upbeat songs than this, but I always found this one to be beautiful. and The Beach Boys are always feel-good music to me)
7. L O V E - Nat King Cole
(never fails to make me smile)
8. All You Need is Love - Jim Sturgess (originally by The Beatles)
(I had to put this song on the playlist. I was going to put the original, but I really like the way this version builds up, so I chose this one instead)

You probably know most of those songs, but that just means that you can sing along. :)
x Courtney